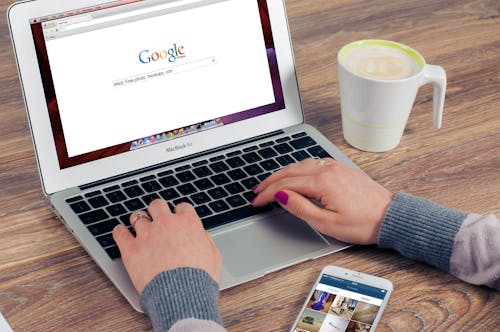 Heeeyy Gooogle!
Did you know that there is a way to get Google to notice your clinic website? The system that Google uses to rank websites is called Search Engine Optimization (SEO). The heart of the mission for website SEO boils down to this: appearing on the first page of a Google search. 
Essentially, when someone types into the search bar "physical therapy in [your town]" —  your clinic shows up at the top of the list. 
A few clicks later, the person explores your website and feels the credibility. They feel confident in your services and decide to set up an appointment at your physical, occupational or speech therapy clinic. More than ever, people are researching on the internet before they decide on a service provider. 
Early in my career, I realized that working as outpatient occupational therapist included educating people about my services through word of mouth, community speaking and networking with physicians. Otherwise, how would people know the ways I could help them? 
Marketing my services kept my company happy (because I got more patients) and made me a valuable resource for my community.  The internet provided a powerful tool for reaching a wider audience. But, for a long time, I knew nothing of the inner workings of Google. And, did not have the time to invest in learning this skill. 
So, here is my story of website failure and the SEO secrets—what I wish I knew earlier. 
When Google is Not Helping Your Therapy Clinic
A few years ago, I started working at a new therapy clinic. It was an outpatient clinic in a small community hospital. When I took the position, one of my goals was to grow the number of patients for my service line, occupational therapy.
I thought, "No problem. I will provide quality service and my reputation will grow." At the time, I was the only occupational therapist providing outpatient services in the entire county. So building a caseload seemed like an easy mission.
But, it wasn't happening… I wasn't getting the patients I really wanted. 
I started wondering, How will people know that I am here? 
The first answer that came to me: They will try to look up occupational therapy on the internet. So, I pulled up Google and began typing in common sense phrases for finding a therapy practice in my community.  
The results came in AND… our therapy department page wasn't there.
A few clicks to new pages and I found us on page 5! I was even more confused when I went to the website. The descriptions did not match our current services. Incredibly, the website did not even list the phone number to our therapy department. 
I had uncovered a major problem in our marketing efforts. Physicians and patients couldn't find us on the internet. Neither could medical assistants or case managers. Even if they found us, they would not know basic information about our department. 
What is a Copywriter and a Web Developer?
I spent some time reviewing the website and started writing new descriptions for our services. My goal was to better capture the spirit of our clinic. I also wanted to include basics like our phone number, how find our clinic in the hospital, and what to expect at the first visit. Now I know — this is called copy. Copy is basically the words of the website. It is the substance that people read. A person who writes copy is called a copywriter. 
But, I only had text in a Word document. 
Next, I had to get the words on the website. So, my learning continued. I talked to the marketing director.  She was happy with my copy but told me she didn't have the ability to put the words on the website. The next step was to give the words to the hospital's website developer. The website developer was in charge of setting up the layout of the website and updating the content. 
How to Catch the Attention of Google Using SEO for Your Therapy Practice 
Since my first dabble in copywriting, I have learned a lot more about how Google works and how to write to catch the attention of the reader. I had no idea that Google used algorithms and keywords to decide who would show up on the first page of a Google search. 
I am going to share some of the best ways to use SEO to improve your occupational therapy and physical therapy clinic website. 
1. Give Special Attention to Titles and Headings
Easy to read formatting using titles and bullets helps the reader who skims. Use keywords in titles and headlines. This helps to alert Google to what your article is about.  The goal is to make it read well, highlight your service and include keywords.
For instance, if you are a clinic in Small Town, USA— maybe you would use one of the following headings:
Physical and Occupational Therapists Serve Patients in Small Town, USA

Pediatric Occupational Therapist and Speech Therapist Love Children in Small Town, USA

Sports Medicine Physical Therapist Returning Athletes to Sport  in Small Town, USA

Use a

headline analyzer

to get insight into the wording that gets good results.

Get ideas for effective keywords by using a

keyword analyzer

. 

Think about both long-tail keywords and short-tail keywords. Long-tail keywords are phrases that could be typed into a Google search. These tend to be more specific and usually have less competition for a high Google ranking. Short-tail keywords are single words that may be more difficult to get a high Google rank. 

Long-Tail keyword example: Occupational therapy for children with sensory and eating issues

Short-tail: Eating issues
2. Google Recognizes High Quality Content, And So Does Your Reader
You are a high quality physical, occupational, or speech therapy provider. Make sure that your website reflects your knowledge. Your potential clients and patients will notice and so will Google. 
Blogs are a great way to share your knowledge, educate patients and improve your Google ranking. For best results, use keywords (like mentioned above), aim for a word count over 1,000, and cite credible sources. 

Make sure the landing page reflects your philosophy and services. Update your website regularly with changes such as services, hours, and clinicians. 

Continue to use keywords in a way that reads well and makes sense. Don't try to just cram in a bunch of keywords into your writing to try for high SEO rating. Both Google and your reader appreciate keywords that are used organically throughout your writing. 
Additional note, make sure you don't duplicate content. It might be tempting to copy and paste from other sources or re-use something you have written online earlier. But, this detracts from the quality of your content as Google recognizes duplicate content. And, this could hurt your Google ranking. 
3. Find Ways to Get Backlinks
Backlinks are when other websites link to your website. This increases your website's credibility because it shows that other websites like what you are saying. Think of it like a website recommendation. 
There are several ways to get more backlinks. One way is to write quality content that other people will want to reference. For instance, you write a blog about ways to address sensory issues for teens. Then a pediatrician agrees with your content and creates a link from their page to yours. 
Another option is through local networking. Maybe the Chamber of Commerce has a website where they link to member websites. Or maybe your community has an online guide for local resources supporting children or health. 
SEO and Online Marketing Resources for Your Therapy Clinic
It is incredible how online marketing trends are always changing. The good news is that great free resources exist to get you started and keep you up-to-date. 
A High Quality Website is Work— but WORTH IT
So, having a valuable website is a lot of work. It makes sense why my therapy clinic wasn't ranking very high. But, it turned out I was right—there is significant value in having a solid online presence. A study by doctors.com looked at trends for using the internet to select healthcare providers. It found 80% of participants used the internet for a health-related search. In the same study, 63% of participants used compelling website content as the criteria for selecting one provider over another. 
People are investing time and money to resolve their issues using therapy services. When people are choosing physical or occupational therapy services, they are: 
Establishing a relationship 

Looking for answers to their health problems

Seeking services that will be valuable 
You want to come out on top when people are doing their online research. Your website is the beginning of establishing yourself as the occupational, physical or speech therapy clinic of choice. 
Building a quality website is important. But, it can seem overwhelming to combine everything— have the right tone, maximize SEO, and present quality content. 
If you need help, consider hiring a copywriter, like me. I am an expert who knows your industry, understands SEO and can provide high-quality writing to highlight your unique skills and services. I can find the words to capture your clinic—  saving you time for building a thriving therapy practice and serving your clients. 
Set up a free consult with me today to get ideas on how to maximize your SEO.